Avocado's Photography featured in Canada's National Hospitality Business Magazine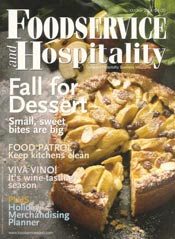 Food Service and Hospitality Magazine featuring Photography from Avocado on behalf of Lemon Meringue Food File: Sweet Talk. " Clear the Table it's time for cake... and pie, and sorbet and Crème Brûlée" By Iris Benaroia. October 2004.
The above photos are by Avocado Communications as follows: Lemon Meringue (top middle), Nutella Tarts (bottom left) and Two-Tone Chocolate Mousse (bottom right).
See more photos from Lemon Meringue's website and read the Case Study.