ABOUT US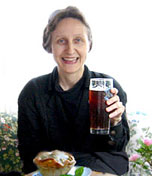 Cheers!
The founder of this company, Rita Schneider, is a graduate of the George Brown College Chef Program. Rita has also completed the Canadian Restaurant and Foodservices Association National Sanitation Training Program for proper food handling.
Rita, in addition to her formal training, comes to this business with many years of hobby baking and cooking, experimenting with homemade food preserves, entertaining and sharing food with friends, strangers, other cooks, exchanging recipes and quite simply indulging in the joy of eating that which provides sustenance and pleasure to lagging bodies and spirits.
Rita's pot pies are made at home. Each pie is prepared with great care. Attention is paid to quality in ingredients and food preparation standards. Fresh market produce is used.
No additives or preservatives are in this product.